Winner of the award best female voice-over in an animated series at the 2021 One Voice Awards, Linsay is best known as the voice of Elita-1 in Transformers: War for Cybertron on Netflix as well as her extensive work in video games and performance capture. Video game highlights include Deathloop, Fallout 76, Rage 2, World of Warcraft, Rogue Company, Wasteland 3, Elder Scrolls Online and Call of Duty Mobile. Her voice has the range, control and diversity for a wide range of projects. As a trained singer and seasoned actor, she knows exactly how her instrument works.
Professional Source Connect Certified home studio.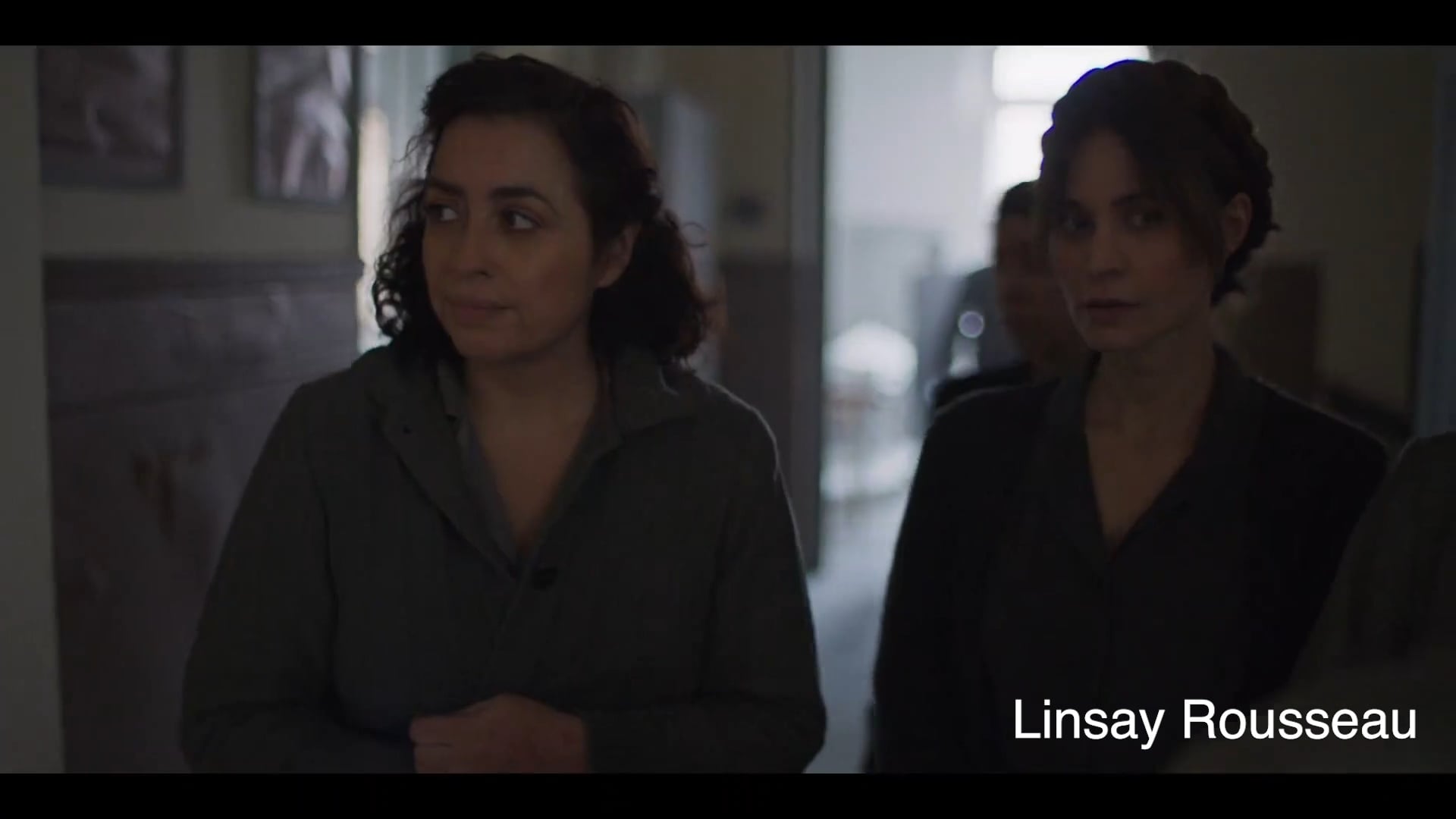 Linsay Rousseau-Promo Demo
Transformers: War for Cybertron

Death Battle: The Boys

Di Bibl

Treasure X: The King's Gold

Squadron Force: Abort Mission

The Night Santa Got Lost
Elita-1
Stormfront
MOCAP Various
Treasure Tomb, Queen Glowena
Lana, Dr. Abigail Winters
Airman, Soldier
Netflix/Rooster Teeth
Rooster Teeth
Adult Swim
Treasure X
Reckless Dog Productions
PATRIOT Entertainment
God of War: Ragnarok

DEATHLOOP

Genshin Impact

Monster Hunter: Rise

Fallout 76

Pentakill III: The Lost Chapter

World of Warcraft

Rogue Company

Rage 2
​
The Elder Scrolls Online: Markarth
​
Call of Duty Mobile

Wasteland 3

MARVEL Future Revolution
Lost Arc
Lineage 2

Valiant Force

Smite

Exos Heros

Westworld: Awakening VR Experience

Hearthstone

NBA 2K22

NBA 2K21

NBA 2K20

The Elder Scrolls: Fall of the Dark Brotherhood

Crucible

Vainglory

Mobile Legends: Bang Bang

Unheard: The Lethal Script

Manual Samuel

Groundhog Day: Like Father Like Son

War of the Visions: Final Fantasy Brave Exvius

Paladins

Area F2

Virtual, Virtual Reality

Born Punk

COLINA: Legacy

The Chimerical Era VR Experience

Lord of the Rings Living Card Game
​
Cloudpunk

Night Agent

Princess Night: Vol 1-3

Ring of Elysium: Ashen Eye

F2

Night of the Full Moon

Dynasty Legends

MU Origins 2

Tennis Clash

Whalefall

FIre and Lightning

Heroes Charge

Galaxy Bowling

Whispered Secrets

Agent Walker: Secret Journey

Queens Quest 5

Queens Quest 4: Sacred Truce

Ghost Files: The Face of Guilt

Tiny Tales: Heart of the Forest

Demon Hunter 4: Riddles of Light
​
Former MOCAP PA

Former MOCAP Tech
Dark Ones, Bezerker Owl
Katrina Pishchtek, Eternals
Tsumi
Hunter Player Voice 16
Female Player, Various
Kayle MOCAP
Nal'ragas, Chelra
Sigrid
Delta Four, Fleur TikTik, Shrouded Shotgun, Mary, Winners Lounge, Wellspring Goon
Freyleth, Draljura, Chief Ulvfae, Tisfira, Bevela, Reach
Channeler, Nighthollow Shade
Saboteur
Del Hackett, Female Breather
Various
Various
Brunhilde
Delphine, Helga
SWC Hera
Jinai, Reedmarie, Freesia, Monica, FateCore
Victoria (Performance Capture)
Ranger Ar/ha, Kobold Lackey
Various
Various
Various
Alissanne Dupre, Princess Barynia, Enthralling Hunter, Sowet of Revenge, Imperial Phalanx, Adronica
Sazan MOCAP
Ylva
Alice
Lisa, Tina
War, Sam's Girlfriend
Facial Capture for all characters
Amnelis
​
High Priestess Ying
Magnet Agent (Female Player)
Tina
Eevi Rinasdottir
Nina, Blue Fairy
Various
Ioreth, Arwen, Eleanor, Galadriel's Handmaiden, Silvan Tracker, Rossiel, Guardian of the Forest
Dolly
Lady Yama, Yingzhao, Fuzhu
Mellow, Meli
Narrator
Battle Agent Female Player
Lady Groot, Black Swan
Da Qiao, Lady Zhen
Veluna, Sia, Graig, Crypt Queen, Liamon, Evelin, Sabrina
Umpire, Player, Announcer
Player Character
Fire, Lightning, Narrator
Tala, Talenta, Sarra
Narrator
Jennifer
Agent Elena Walker
Princess, Iris
The Princess
Susan the Psychic Detective, News Reporter
Ellie, Princess
Akiiki, Bastet
​
Sony Interactive Entertainment
Fonco Studios, Noitom Intl.
Santa Monica Studios
Arkane Studios/Bethesda
miHoYo
Capcom
Bethesda
Riot Games
Blizzard
Hi-Rez Studios
Bethesda/Avalanche Studios
​
Bethesda
​
Activision
inXile Entertainment
Netmarble Monster
SmileGate RPG/Amazon Games
NCSoft
XII Braves/FunPlus
Hi-Rez Studios
Line Games
HBO/Survios
Blizzard
2K Games
2K Games
2K Games
Bethesda/Dire Wolf Digital
Amazon Games
Super Evil Megacorp
Shanghai Moonton Technology
NEXT Studios/Tencent Games
Perfectly Paranormal
Sony Pictures VR/TequilaWorks
Square Enix
Evil Mojo Games
Ejoy
Tender Claws
Insertdisk22
Chance6 Studios
The Chimerical Era
Fantasy Flight Games
​
Ion Lands
Taihe Interactive
Babel Entertainment
Aurora Studios
Enjoy Mobile
SoulGame
Enjoy Mobile/Aurora Studios
Webzn
TFGCO
Whitethorn Digital
PlayStudios
uCool
Apptamin
Big Fish Games
Big Fish Games
Big Fish Games
Big Fish Games
Big Fish Games
Big Fish Games
Brave Giant Studios
​
Ghost in the Shell: Season 2

Kageki Shouju

Love Come 9

Seven Deadly Sins: Cursed by Light

Adache & Shimamura

Sailor Moon SuperS
Additional Voices
Shiroto
Additional Voices
Additional Voices
Nagafuji's Mom
Princess Rubina
Netflix
Funimation
Funimation
Funimation
Funimation
Viz Media
Love Like the Falling Petals

What a Man

Ruxx

Insania

Til Life Do Us Apart

Gamorrah

Daughter of Lupin

Welcome to Utmark

Pray, Obey, Kill

Losing Alice

Beforeigners

Dad Wanted

Under the Riccione Sun

One Way or Another

Bordertown

Cable Girls

Bonfire of Destiny

The Blackout: Invasion Earth

Abigail

Project Gemini
Various
Laura
Jo
Various
Catarina, Batwoman
Donna Luciana
Miwa
Unna
Various
Yael
Wenche
Jimena, Various
Ambra, Various
Choni
Venla
Dolores
Odette, Therese, Various
Cyrillica, Marina
Stella
Nika, Launch Commander
Netflix
Disney+
HBO Max
Disney+, Hulu, Star
Netflix
HBO Max
Netflix
HBO Max
HBO Max
Apple+
HBO Max
Netflix
Netflix
HBO Max
Netflix
Netflix
Netflix
Feature Film
Feature Film
Feature Film
Spinning Gold

Black Widow

The Boys
Loop Group
Loop Group
Loop Group/Voice Match/Promo
The Boardwalk/Hero/Blue Rider
Marvel Studios
Amazon Studios
CBS

The Lifetime Network

HBO Max
List available upon request
Disney+ IVR

Mazda

Whole Foods Market In Store Voice

Congressional Communities

US Navy Space & Naval Warfare Center

Sherwin Williams

Epidiolex

Cisco Systems

Global Fund for Women: 25th Anniversary Video

Smuckers

QuitPlan

Oven Nirvana

Lakewood City Schools

Best Western

DSM Global Climate Action

National Center for Mobility Management

MyHNRY TMS

Aquent Managed Solutions

PainScale Guided Meditation

Dentsply

Cali App

StreamWorkspace.com

Everfi (formerly LawRoom.com)

Brainstorm, Inc.

Voetica

Wochit

Umano App
SDI
Maritz Automotive
Whole Foods
Idea Rocket/YDraw
Musa Productions
VMLY&R
Epidiolex
Cisco Systems
Mill Valley Film Group
Smuckers
Rumble Studios
BFG Marketing
Second Story Productions
Best Western
DS
Community Transportation Assn of America
Behemoth
Aquent Studios
BCG Digital Ventures
Geronimo Productions
May Yam Studios
StreamWorkspace
Staff Narrator
Staff Narrator
Staff Narrator
Staff Narrator
Staff Narrator
The No Sleep Podcast

Deliberations

SUSPENSE Radio Drama

Ep. 127: "Grotesquerie

Ep. 125: A Gun for a Dinosaur
Kate, various
Step (season1), Det. Suarez (season 2)
​
Vera
Mrs. Seligman
David Cummings
Pen Drop
Blue Hours Productions
Studio: Professional home studio, fully treated and sound proofed

Microphones: Neumann TLM103, Sennheiser MKH 416

Interface: Apollo Twin X

Recording software: Adobe Audition

Source Connect Standard

Remote participants: ipDTL, Skype, Zoom, Google Video Chat, Google Hangouts, Microsoft Teams

File transfer: WeTransfer, Google Drive, Dropbox

Security: VPN server if the client needs increased security

Internet: Fiber optic connection